Painted Lady (Vanessa cardui)
Home | Butterflies & Skippers | Dragonflies & Damselflies | Wildflowers
DISTRIBUTION in North Carolina: Scattered across the state, and potentially occurring in every county.
ABUNDANCE in North Carolina: Very erratic from year to year. This is a migrant from Mexico and the Southwestern states. It undergoes mass emigrations every few years, so it is very rare or absent in some years in NC, but can be uncommon in other years. In 1994 and 1996, NC Natural Heritage Program had only one record for the species, and in 1993 the Natural Heritage Program had no records in the state. However, 1992 was a good flight year, with a handful of sightings; 1995 was another good flight year, with some observers seeing them on 10 or more occasions. The flight in 2001 was remarkable, with 17 new county reports, and many record counts, including 200 tallied on the Pettigrew State Park count. In 2002, we had roughly a dozen reports from across the state, a good total for most years, but a big letdown after the banner year in 2001. We had another very good year in 2003, with 74 reports across the state; 2004 was about normal, with 27 reports. In 2005, there was another very good flight, with new records for 8 counties and a doubling of the previous number of mountain records. In 2006, we received only 18 reports, though two new counties were added.
FLIGHT PERIOD in North Carolina: The flight period, or better stated "occurrence period", in NC is very wide. They have been recorded from late March into early January, but flight periods, of which there must be about three broods, need elucidation. Even though the species is a migrant, the first brood migrants obviously lay eggs in North Carolina, and several broods of butterflies certainly are raised locally (as butterflies in summer and fall often are fresh). In general, individuals seen through June are rather worn, suggesting that they are migrants from the Southwest.


Distribution, abundance, flight period, and map information provided by Notes on the Butterflies of North Carolina.
06/25/05 · Alleghany County, NC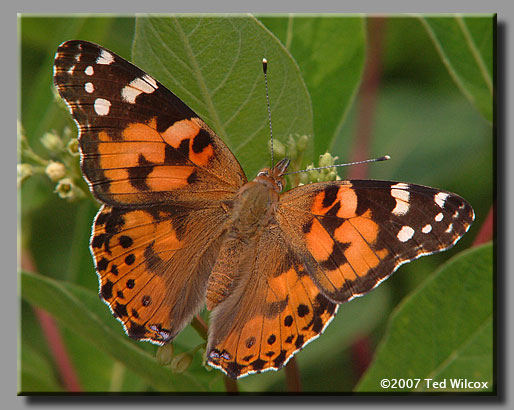 06/25/05 · Alleghany County, NC