Red Admiral (Vanessa atalanta)
Home | Butterflies & Skippers | Dragonflies & Damselflies | Wildflowers
DISTRIBUTION in North Carolina: Statewide, undoubtedly occurring in all 100 counties.
ABUNDANCE in North Carolina: Fairly common over most of the state, but least numerous in the Piedmont, where often uncommon. Usually not colonial, but at times ten or more may be seen in a day. Quite common in parts of the state in 2001, which was a surprising "invasion" year.
FLIGHT PERIOD in North Carolina: Probably three broods with no clear gaps in the flight periods except for a brood break in mid-June in the Piedmont; ranges from late March to late October, very rarely in midwinter.


Distribution, abundance, flight period, and map information provided by Notes on the Butterflies of North Carolina.
08/20/05 · Ashe County, NC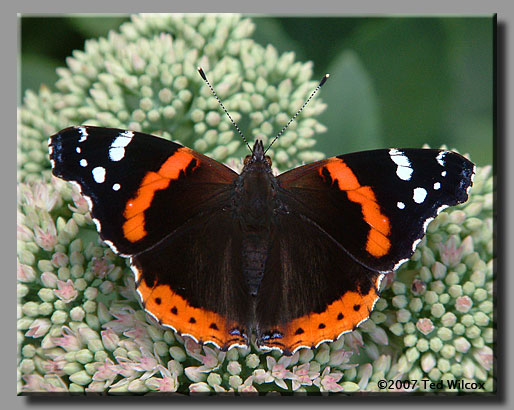 08/20/05 · Ashe County, NC