Great Purple Hairstreak (Atlides halesus)
Home | Butterflies & Skippers | Dragonflies & Damselflies | Wildflowers
DISTRIBUTION in North Carolina: Throughout the Coastal Plain, and scattered over most of the Piedmont. Found at the edge of the mountains in the Hickorynut Gorge vicinity, and in Macon County in 2003.
ABUNDANCE in North Carolina: Uncommon to locally fairly common in the Coastal Plain, rare in the lower Piedmont, and very rare in most of the Piedmont range. Apparently common in a few places in the Coastal Plain, such as Alligator River National Wildlife Refuge in Dare County.
FLIGHT PERIOD in North Carolina: At least three flights: mid-March to late April, early May to late June, and mid-July to late October, with the last brood (or possibly two broods) being much more common. The spring broods are quite brief, at least relative to the last one.


Distribution, abundance, flight period, and map information provided by Notes on the Butterflies of North Carolina.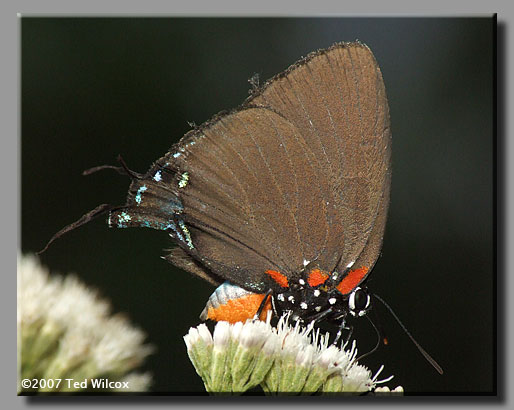 08/25/07 · Brunswick County, NC