Byssus Skipper (Problema byssus)
Home | Butterflies & Skippers | Dragonflies & Damselflies | Wildflowers
DISTRIBUTION in North Carolina: The species is essentially limited in NC to the southern half of the Coastal Plain, mainly in the coastal counties, but it was found in 2001 in the extreme southern Piedmont, in Crowders Mountain State Park. As it is not known from Virginia or northward, the edge of the range, as now known, is Cleveland, Harnett (new county record in 2006), and Craven counties.
ABUNDANCE in North Carolina: Uncommon in the southern coastal counties; very rare west to Cumberland, Scotland and Cleveland counties. The species is a bit colonial, and four or more can be found in a small area of habitat.
FLIGHT PERIOD in North Carolina: Two broods, with a tiny first brood in mid-June. The main brood is mid-August to late September.


Distribution, abundance, flight period, and map information provided by Notes on the Butterflies of North Carolina.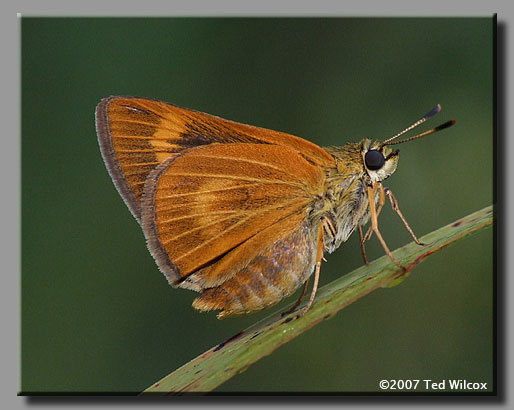 08/25/07 · Brunswick County, NC
(same Skipper as below)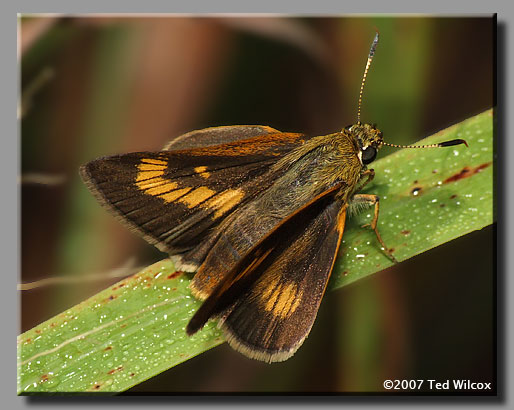 08/25/07 · Brunswick County, NC
(same Skipper as above)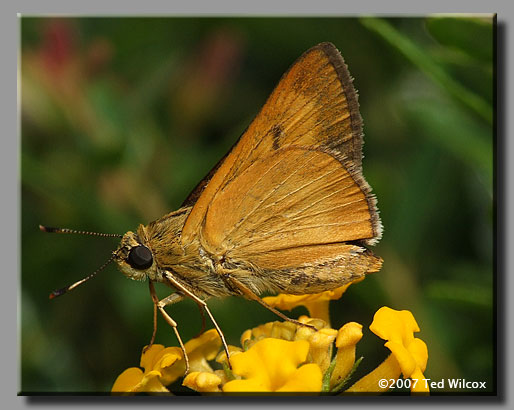 08/25/07 · Brunswick County, NC