Confused Cloudywing (Thorybes confusis)
Home | Butterflies & Skippers | Dragonflies & Damselflies | Wildflowers
DISTRIBUTION in North Carolina: This is a poorly-known species in NC because of the difficulty of identification. Records are scattered over most of the Coastal Plain, plus the eastern and southern portions of the Piedmont. Its status in the western half of the state needs study, but it may be nearly absent in the mountains, and possibly also in the extreme upper Piedmont.
ABUNDANCE in North Carolina: Uncommon in the Sandhills; rare to locally uncommon elsewhere in the southern half of the Coastal Plain, and seemingly very rare north of Craven County. Apparently rare in the eastern and southern Piedmont. A specimen collected in Clay County in 2002 by Ron Gatrelle confirms the species in the mountains. Obviously, more work is needed to determine the true abundance, but it is definitely scarce in NC and much rarer than the other two cloudywings.
FLIGHT PERIOD in North Carolina: Two broods; flight periods in the Coastal Plain occur from early or mid-April to mid-June, and early July to mid-August. The flights in the Piedmont appear to be from late April to mid- or late June, and probably late July into August; much more data are needed.


Distribution, abundance, flight period, and map information provided by Notes on the Butterflies of North Carolina.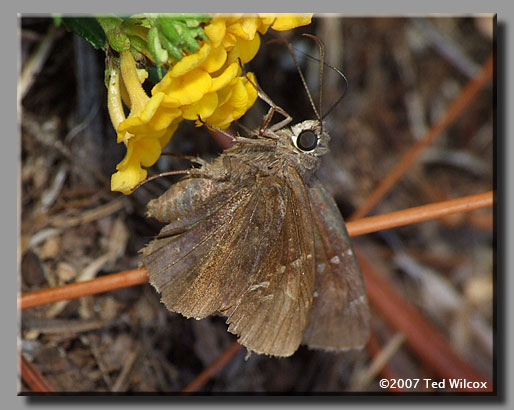 08/25/07 · Brunswick County, NC
(same Cloudywing as below)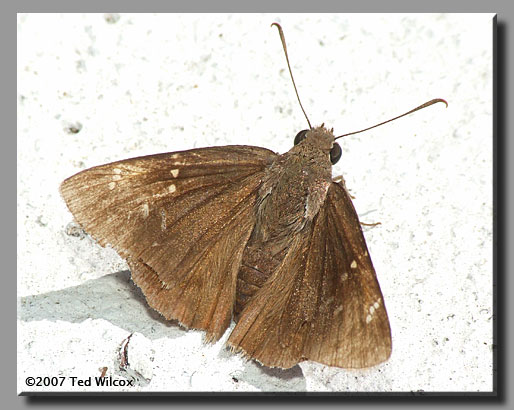 08/25/07 · Brunswick County, NC
(same Cloudywing as above)