Sleepy Duskywing (Erynnis brizo)
Home | Butterflies & Skippers | Dragonflies & Damselflies | Wildflowers
DISTRIBUTION in North Carolina: Statewide, apparently, but no records for coastal areas; in fact, county records for Craven and Pender are the only tidewater counties represented in the county dot map. The range near the coast, especially in the northeastern corner of the state, thus, needs study.
ABUNDANCE in North Carolina: Fairly common in the mountains and in the Sandhills, being less numerous in the intervening Piedmont. Rare to uncommon in the southern Coastal Plain (outside the Sandhills), but very rare northward, seemingly absent in the northern Coastal Plain. The species is under-reported because of its brief flight period and possibly because of its similarity to other duskywing species.
FLIGHT PERIOD in North Carolina: A single spring brood; late March to early May downstate, and late March to early June in the mountains.


Distribution, abundance, flight period, and map information provided by Notes on the Butterflies of North Carolina.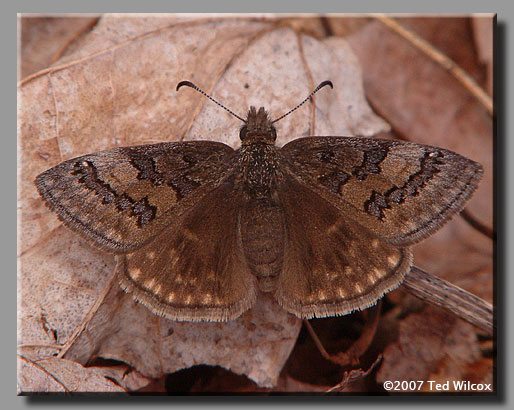 04/21/06 · Watauga County, NC · female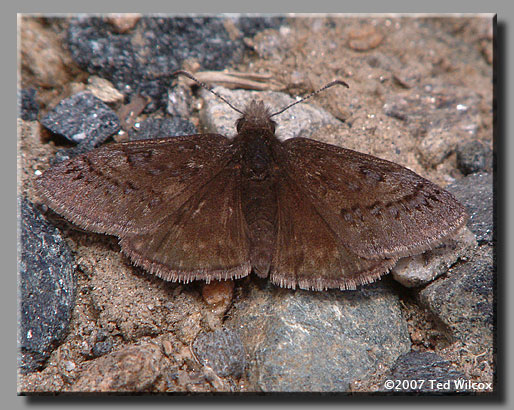 05/06/05 · Ashe County, NC · male
(same Duskywing as below)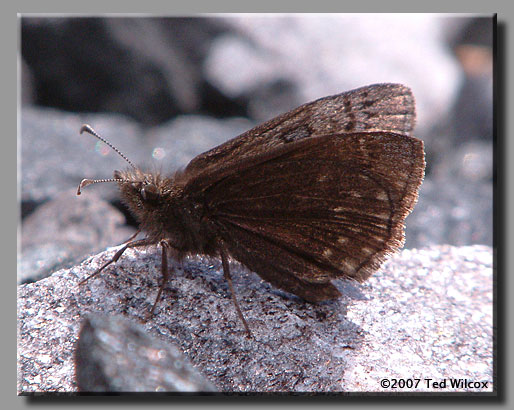 05/06/05 · Ashe County, NC · male
(same Duskywing as above)