Zarucco Duskywing (Erynnis zarucco)
Home | Butterflies & Skippers | Dragonflies & Damselflies | Wildflowers
DISTRIBUTION in North Carolina: Scattered over the state, but very rare in the northern mountains and northwestern Piedmont. Still no records for the extreme northern Coastal Plain. Primarily found in the southern half of the state, but with many records in the northeastern Piedmont (where field work is greater than anywhere else).
ABUNDANCE in North Carolina: Fairly common in the Sandhills and in the southern tidewater areas. Uncommon over most of the Coastal Plain and the eastern and southern Piedmont; apparently rare in the southern mountains. Very rare in the northern mountains and northwestern Piedmont, and presumed very rare in the northern Coastal Plain.
FLIGHT PERIOD in North Carolina: Probably three broods, but might be migratory in some areas (such as the mountains and western Piedmont). Broods in the Coastal Plain are a small one in April into May; late May to mid-July; and a primary one from mid-July to mid-September, rarely early October. The Piedmont data also seem to indicate two very small broods prior to the largest one in late July and August, but a small "peak" in late September is puzzling. Likely just two broods in the mountains (if it breeds there at all); records fall between mid-May and mid-September.


Distribution, abundance, flight period, and map information provided by Notes on the Butterflies of North Carolina.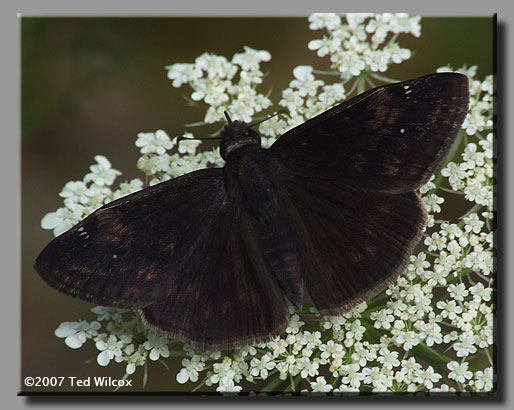 08/07/07 · Wilkes County (P), NC · male
(same Duskywing as below)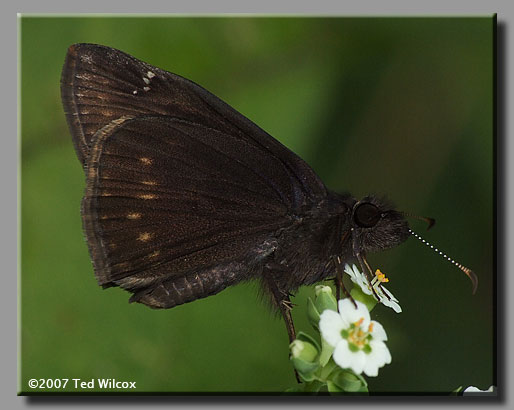 08/07/07 · Wilkes County (P), NC · male
(same Duskywing as above)